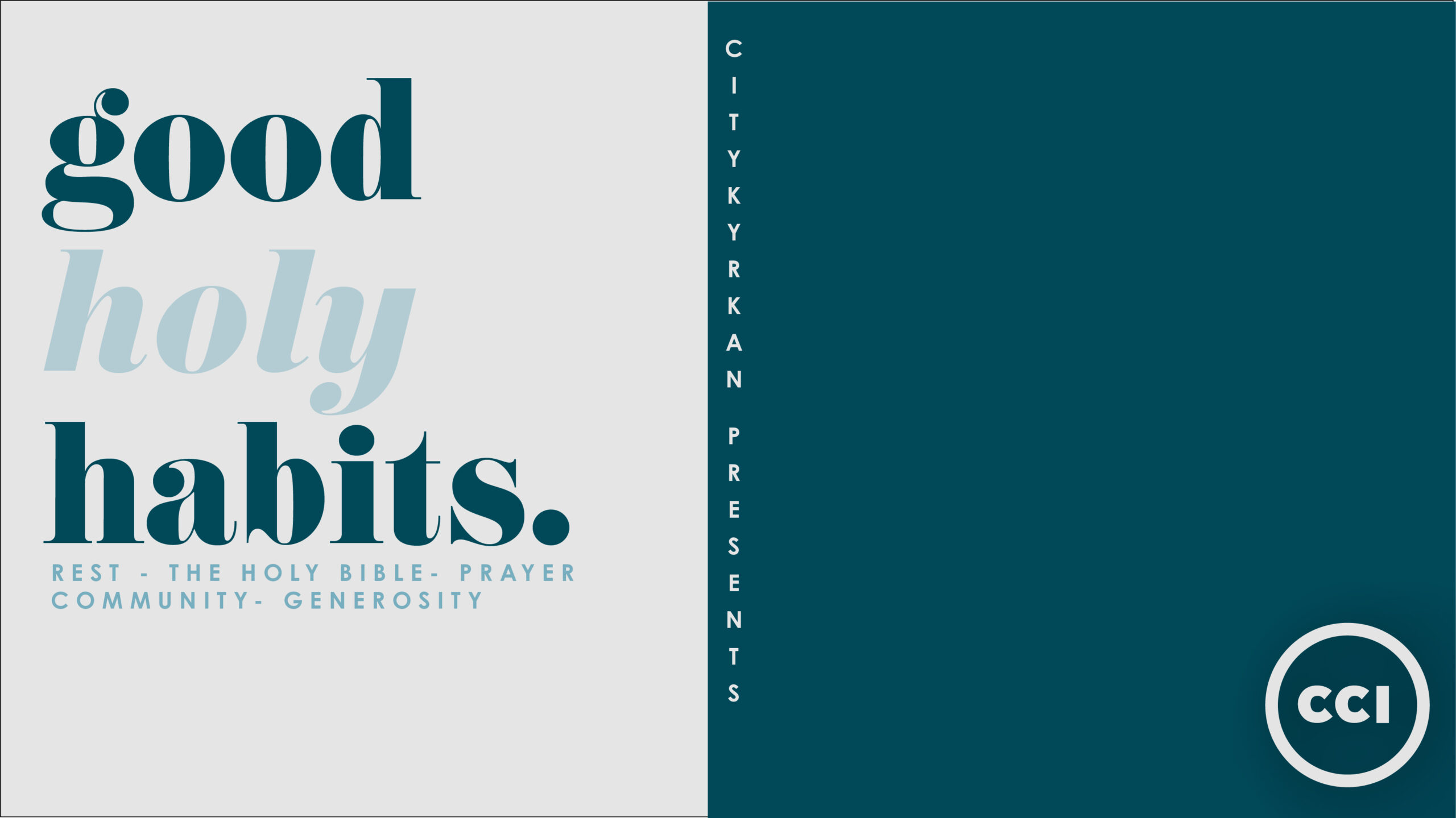 The 28th of February marks the start of our new sermon series "Good holy habits". We will during five sundays explore why it is important to read the bible, pray, rest etc. What effect can we see in our lifes when we apply these good holy habits and how does it effect our relationship with Jesus?
You can watch each sermon live via Youtube and our Facebook page "City Church international" at 12.30
Sunday 28/2: Rest
– Jesus our rest: Jesus' first invitation to us is to receive his rest and gentle yoke. A plan for our rest, is to seek the restful following of Jesus. (Matt 11: 28-30, Heb 4: 9-11)
– Sabbath: A clear step in getting into rest is to find a weekly rhythm where you rest 24 hours. A day's rest when we turn off all the obligations and our usual work to provide space to enjoy God's good with loved ones. (Jer 17:21, Genesis 2: 1-3)
– Moderate: An unpleasant word for some, but we do not have to be moderate but do moderate. When our calendar is not moderate or balanced, stress becomes a natural consequence. (Rom 12: 3)
– Say no: In order to have space to "do what the Father does", we have to say no to sin as well as many good things. (John 5:19, Titus 2: 11-14)
– Turn off: Overstimulation makes the soul divided and anxious. We need to regularly turn off social media and accessibility in order to find a "reasonable" consumption and stimuli. (Luke 5:16, Luke 4: 1)
– Refuse the lifestyle in a hurry: Hurrying sometimes is ok, but living in a hurry leads us into stress and destruction. Our own relationship with God is damaged and relationships with others. (Luke 10: 39-42)
Please read: Matthew 11: 28-30, Luke 5:16, Luke 4: 1, Hebrews 4: 9-11
Sunday 7/3: Prayer
"Do this during constant prayer and invocation and always pray in the Spirit." (Eph 6:18)
– Start the day with a short or long time in prayer: Let the day begin with the Holy Ghost before the Father in the name of Jesus.
– Daniels-prayer: Daniel prayed three times a day, just as we do during the fasting period. Something to continue with after fasting?
– Jesus's prayer life: Read the Gospels and study Jesus' prayer life, and do as he does.
– Paul's prayer life: Read Paul's letters, study and be inspired by how Paul prayed.
– Worship: A great help can be to put on worship music that help you to worship.
– Speaking in tongues: An important part of Paul's prayer life was tongues. Pray a lot in tongues, as it builds up your inner man. Take moments in the car, the shower, when you clean up, or go for a walk – by speaking in tongues we can open up to the Spirit everywhere.
– Silence: Invite God's presence and be completely silent. Wait for God and let the deeper parts of your heart sigh to God. Listen. A moment of silence before God every day is life-giving.
– The Lord's prayer: Jesus gave us the best model of prayer. Stop in front of each line and make that prayer your own.
– Prayer of gratitude: Take time to thank God for all that he is and has done.
– Praying God's Word: Pray based on the Bible verses that are alive to you. The promises that the Spirit reminded you of. Speak the Word of God over your and others' lives.
– Intercession: We can have prayer lists with people and situations we return to God with in prayer. Or we pray for those whom the Spirit at that moment reminds us to pray for.
– Prayer for friends: How can you continue during the year to lift a few friends before God who is not yet following Jesus?
Please read: John 17: 3, Ephesians 6:18, Matthew 6: 5-13, Luke 5:16, John 15:17, Acts 4: 23-31
Sunday 14/3: The Bible
"Blessed is he who delights in the teaching of the Lord and meditates on his words both day and night. He is like a tree planted by streams of water, which bears its fruit at the proper time and whose leaves do not wither. And everything he does, he succeeds." (Ps1: 1-39)
Different ways to read the Bible:
– Bible reading plan: Read the whole or part of the Bible in one year, or another period of time. There are different versions in print at bookstores. There are also a plethora of reading plans in the Bible app "Holy Bible" by Youversion.
– Bible books by interest: Decide a daily number of chapters. Choose Bible books that interest you or you perceive the Spirit to lead you.
– Morning and/or evening routine: Choose when you most easily get into a routine. Maybe continue, after the fast, by reading a chapter in the morning. Or take a longer time in the evening. Find a routine.
– Read slowly: A common model is to read slowly until the text "speaks" to you. Let the Word sink in. Is there an invitation or command to follow in the text?
– Study a subject: An exciting Bible reading when you want to immerse yourself in a subject. Use the Bible references in the margin. Tip: Check out the subject index, which is often found at the back of the Bible.
– Fast read: Fast read the bible to get an overview of biblical history.
– Memorize: Jesus probably knew large parts of the Old Testament by heart. A start is to take verses that helped you write them down and memorize them. The more Bible we can memorize, the more the Spirit will speak to us.
Always be open to the Spirit speaking and shaping you through reading.
Please read: Hebrews 4:12, Matthew 4: 4, John 15: 7-8, John 6:35
Sunday 21/3: Generosity
– Stewards: Everything we have is on loan and we are now the Kingdom of God's stewards of our gifts, talents, time, power, money – yes everything. Good stewards increase what they receive. How can it look like in our lives? (1 Peter 4:10; Matthew 25: 14-30)
– Tithing: A biblical principle for Jesus' disciples as a first step to anchoring their economy in the Kingdom of God. Do you have a plan for your giving this year? (Mal 3:10, Luke 11:42, Hebrews 7:10)
– Offering: Blood sacrifices is past, but sacrificial giving in a way that costs us something of convenience and security characterizes a life of faith and obedience. (2 Cor 8: 3-5)
– Sowing: The Bible shows us that our giving is like a seed that grows and gives and can give a great harvest. Both for the field we sow in and for our own finances. (2 Cor 9: 6)
– Serve: We have received all our spiritual gifts to build others up. What gifts do you have and how can you serve others with them? (1 Cor 12: 4-7)
– Others: Jesus has given us all the task of being fishers of men, to give as a gift what we have received as a gift. How can it look like in your life in 2021? (Mark 1:17, Matt 10: 8)
Please read: Acts 20:35, Matthew 10: 7-8, 1 Corinthians 12, Matthew 25: 14-30
Sunday 28/3: Fellowship
"Every day they were faithful and united in the temple, and at home they broke bread and shared a meal with each other in jubilant, heartfelt joy." (Acts 2:46)
– Sunday service: Getting into the faithful habit of always celebrating worship once a week makes a big difference for us being one and one, and the community. Crucial to the long-term journey with the Lord.
– City group: The smaller community where we meet, pray and read the Bible together and build each other up through the gifts of the Spirit. Here the discipleship is deepened, and new disciples are welcomed and formed.
– The inner circle: Jesus had many disciples, but he came closer to three of them. Who are your closest disciples with whom you share the journey?
– Faithful and committed: What does a healthy or unhealthy commitment to a church look like?
– Prayer together: The first disciples were united in the prayer. That's the place we meet God and hear his voice together. Opportunities for lunch prayer and evening prayer, and other prayer times will continue to be a natural part of our congregation's meeting places. Will you be there?
Please read: Luke 4:16, Acts 2: 42,47, Hebrews 10:25, Luke 22: 31-32, Gal 6: 2, 1 Cor 12
start
Sunday 28/2 2021
12.30 at Youtube
Paul's book tips:
"Ruthless elimination of hurry", John Mark Comer – Easy to read and very applicable for our time.
"Healthy emotional spirituality", Peter Scazzero – Very good and pedagogical material about following Jesus in a healthy way. Developed in a parish context.
"The road to joy", Richard Foster – A classic on the subject.
"Strengthening the soul of your leadership", Ruth Haley Barton – Takes us deep into the roots of our hearts and walks with Jesus. The book is a reflection on the life of Moses.
"Sacred habits for ordinary people", John Ortberg – Very good introduction to Good Holy Habits.
"Spiritual Disciplines", Dallas Willard – The author and the source to which many of the others refer.
"Det händer när du vilar", Tomas Sjödin (Only in Swedish) – This book helps us to slow down and find rest.